There are those who would build the Temple,
And those who prefer that the Temple should not be built.
In the days of Nehemiah the Prophet
There was no exception to the general rule.
In Shushan the palace, in the month Nisan,
He served the wine to the king Artaxerxes,
And he grieved for the broken city, Jerusalem;
And the King gave him leave to depart
That he might rebuild the city.
So he went, with a few, to Jerusalem,
And there, by the dragon's well, by the dung gate,
By the fountain gate, by the king's pool,
Jerusalem lay waste, consumed with fire;
No place for a beast to pass.
There were enemies without to destroy him,
And spies and self-seekers within,
When he and his men laid their hands to rebuilding the wall
So they built as men must build
With the sword in one hand and the trowel in the other.
T.S. Eliot, Choruses from "The Rock", Part IV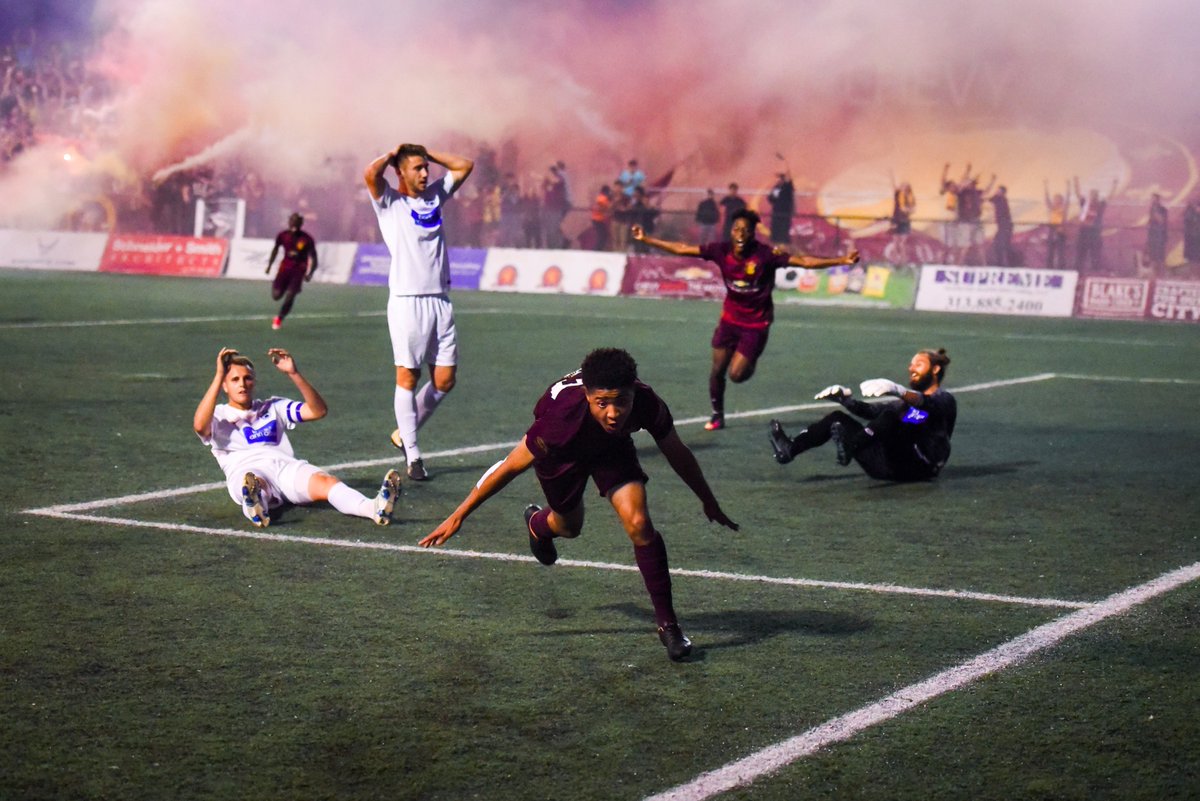 Understand: There was nothing about this season, this golden, precious run of games, which was a failure. We fell at the penultimate hurdle. It happens. The scrapes will heal; it will be up to us to keep the memories alive. It will be important we keep these memories alive.
Because surely 2017 will go down in Detroit City Football Club history as end of the pre-history of City. Like childhood, these memories will acquire the golden hue of myth – Mondi with the right foot, forever, amen – as they should. Cyrus gliding through the middle. Dave, exultant, arms outstretched before us. Sebby's windmill. Shawn's scoring streak. Spencer Glass with the volley. Lansing 3-3 City. Bakie lofting through-balls. Mondi with the right foot. Mondi with the RIGHT FOOT!! We will need our mythology, our grounding stories, for the onslaught we are about to face.
Until recently, we've been nothing more than a nuisance to MLS' designs on the Detroit market – but the naked avarice of the Gilbert/Gores cash-grab, combined with the fact that MLS' recent history in populated markets is more colonial than cohabitational, have suddenly brought our opposing ethos into sharp focus as an alternative. We stand at Ground Zero of the enclosure of American soccer pastureland; we serfs would do well to prepare ourselves for the conflict to come.
Unlike those earlier serfs, we have multiple tools available to persuade against the hedging of our shared pasture. We have begun by demonstrating – to interested outside parties, in a way not possible in pastoral England – that our common land is well-maintained; no usufruct challenge here. How many MLS clubs turn a profit, again?
Then there's the cultural advantage tied up in the fact that basically any recording of Northern Guard shows that it's a party you'd probably like to be part of, a multi-hued spectrum of nutjobs and halfway-ins and ironic eye-rollers and pure lookie-loos – everyone fits somewhere. And that's not by accident. There's no test. There's no preferred type. Be who you are (not a dick!), stand up, hoot for City: Here endeth the rulebook. And the whole world knows that already! Would it have mattered during Enclosure if the Midlands village could broadcast a highlight reel of its really bangin' harvest festival?
We have something very special here, something uniquely special in the wide and mind-blowingly various world of football: A locally-owned, community-focused football club in the United States which is wildly successful almost entirely on its own terms. If it's to remain so, we all have a lot of work ahead of us. And the opposition won't be content to play it clean and lose; more hurdles await us.
We are intertwined, though. We bear each other up. We can do this. We must do this. It won't be easy. But what – worth doing – is?